Product Description
Expanding upon the Horizon family legacy we proudly introduce the Valor H6 Series. Structured as a large format fireplace, the H6 is inspired by features that are proven in the field. Although large in presence, the firebox design features tapered sides and shallow depth for smooth installation in a variety of applications. An impressive secondary heat exchanger circulates warm air naturally through convection. As well, custom fire beds are designed to project this radiant warmth to objects in your living space creating a steady, even heat.
Convenient, reliable and easy to use features help program direct warmth – where you want it, when you want.
| MODEL | HIGH | LOW | MAX | ENERGUIDE |
| --- | --- | --- | --- | --- |
| NG | 36,000 | 19,000 | 26,928 | 71.00% |
| LPG | 36,000 | 19,000 | 26,928 | 71.00% |
Viewing Area: 36.125″ w x 25.5″ h = 921″²
Gas Type: Natural Gas or Propane
HeatShift Technology™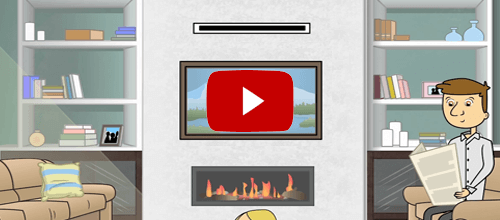 Recognizing homeowner needs and expectations is what separates Valor from the competition. Taking the concept of No Power, No Problem to the next level, Valor introduces a heat management system that redirects fireplace warmth to a higher elevation in the room.
Designed to reduce surface temperatures, the Valor HeatShift System™ is recommended when adding a wall mounted TV or heat sensitive material directly above the fireplace. In essence, raising the heat outlet dramatically improves conventional airflow – reducing wall temperatures and improving overall performance. Learn more about Valor's HeatShift System™
Standard Features
Programmable Valor Comfort Control Remote
The Comfort Control Remote gives you the power to select, adjust and program the desired temperature that you want.
Convert for Outdoors
Enjoy Valor's radiant heat advantage on your patio, deck or outdoor living space with the GV60CKO. Learn more.
Heats without electricity or a fan
Valor fireplaces are fully functional heaters that don't use electricity. Our products provide efficient warmth, designed to heat your home without a fan or power supply.
Standard Safety Barrier Screen
Fireplace surfaces, in particular the glass viewing window, are extremely hot during operation and will remain hot for a period of time after the fireplace is turned off.
Direct Vent Installation
Exhaust system for gas fireplaces that is gravity induced. No chimney is required and allows for vast installation opportunities.
Wall Switch Kit (1265WSK)
The Wall Switch Kit makes the fireplace batteries more accessible, allowing you to easily adjust the flame of your fireplace.
Burn Clean, Engineered Green
Valor radiant gas fireplaces provide efficient, heater-rated room comfort and boast impressive Energuide and Enerchoice ratings.
Realistic Logs, Glass & Liners
Quality materials and finishes ensure our customers have a longer lasting fireplace.
Modulating Flame
Your Valor Fireplace will turn down for steady even heat, ideal for any family environment or living space.
Insert Approved
Some fireplaces can be installed using different application methods. Please refer to your owner's manual to learn more.
Extended Warranty
Register the warranty for your Valor fireplace to ensure optimal support and potential future benefits.